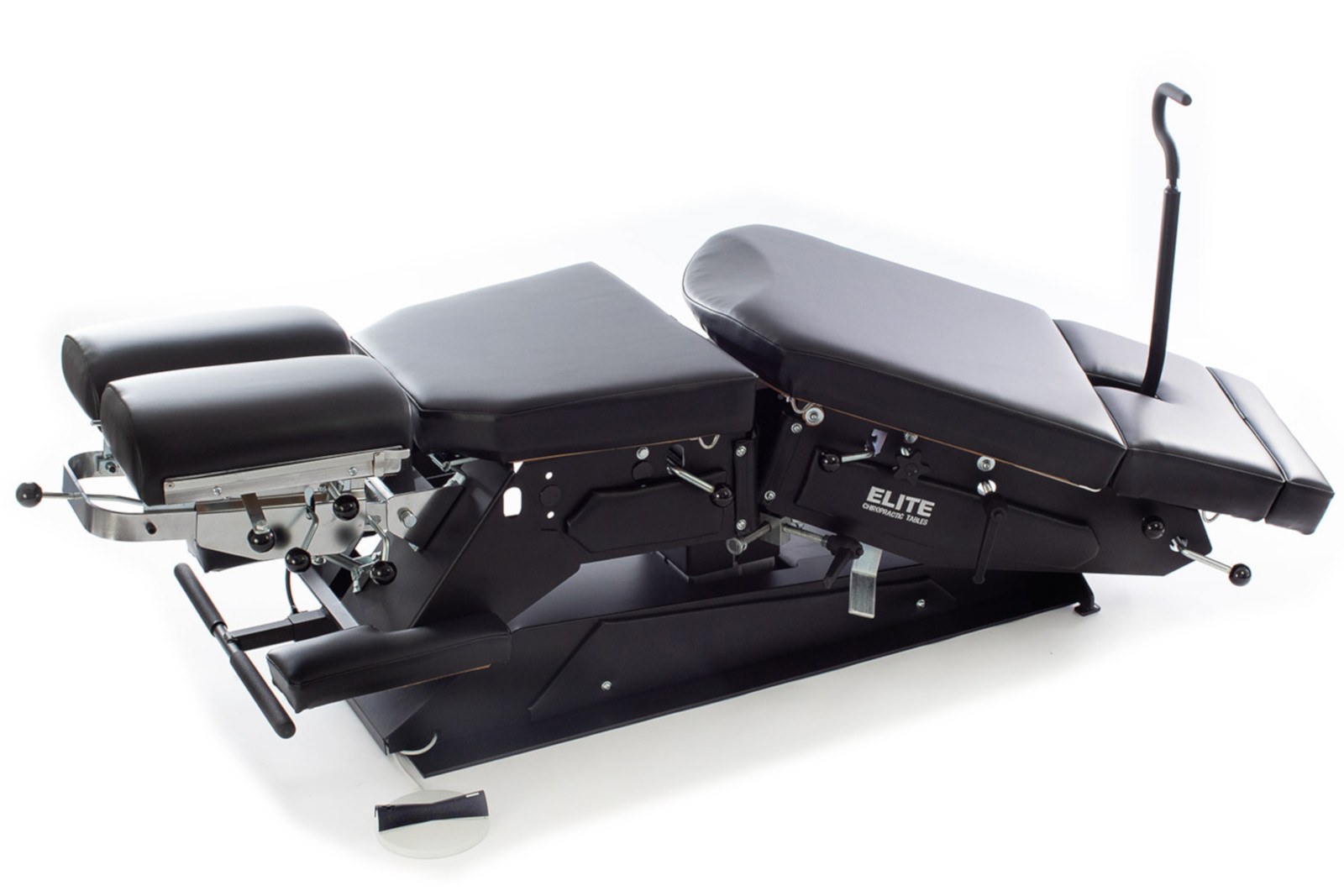 Features & Options
Manual Flex
Smooth range of Lateral Flexion (20 degrees)
Deep Flexion depth (22-25 degrees)
Able to perform figure 8 (ROM)
Pelvic cushion will drop in either a Flexed / Neutral / Extended position
Table can be locked while in a flexed position
Removable flexion control handle offers 3 different height adjustments and can be removed when not in use
Axial Rotation Upgrade
Manual rotation can be locked in any position.
User friendly locking handle.
Can be added to Manual Flexion, Auto Flexion or Auto Manual Flexion.
22 degree of rotation.
Electric Distraction Upgrade
Electric distraction of six inches
Upgrade available on all Flexion tables
* Please note when electric distraction feature is added, the pelvic cushion or knee break will not have a peaking mechanism when ordered on the following tables: Manual Flexion, Auto Flexion, HiLo Flexion and Auto Manual.
Elevation Upgrade
Motorized elevation adjust table for comfortable working position
Eight inches of elevation height adjustment controlled by a foot switch
Electric motor is powerful, quiet and smooth, rated to 230 kg. (500 lbs.)+
Cordless Power
Same lift performance
Full week from one charge
Optional second battery pack
Position your table anywhere
No extension cords the clients can trip on
Headrest
Multi-directional headpiece – Tilt, Elevation and Spread
Cervical headpiece can be raised up to 6" above cushions
Cervical drop (forward motion oriented or straight down motion)
HP-FLEX Headpiece – Includes all the features of our standard headpiece plus flexion and traction
HP-FLEX-L Headpiece – Includes all the features of the HP-FLEX Headpiece plus lateral flexion
Drops
Easy drop foot cocking pedal on both sides of table
Pelvic cushion will drop in either a Flexed / Neutral / Extended position
Customizable with your choice of drops: cervical, thoracic (full or upper & lower), and pelvic
Thoracic drop available with abdominal breakaway feature
Easy access to adjustment controls
Cushion
21″ wide table surface
Elevating thoracic and Pelvic/Lumbar sections (each tilt upward to 15 degrees)
Knee break (adjusts up 20 degrees, down 10 degrees) with ankle rest extension
Ankle rest extension
Variable cushion position
Construction
Table base durable powder coat finish in your choice of color
Sturdy welded steel construction
Low maintenance, dependable function
Manual Flexion
Manual flexion enables the doctor to perform figure 8 ROM. The smooth lateral flexion range is 20 degrees, and flexion depth of 22 to 25 degrees of depth. The table can be locked while flexed, and the removable flexion control handle offers three different height adjustments. The pelvic cushion on the table will drop in either the flexed, neutral or extended position.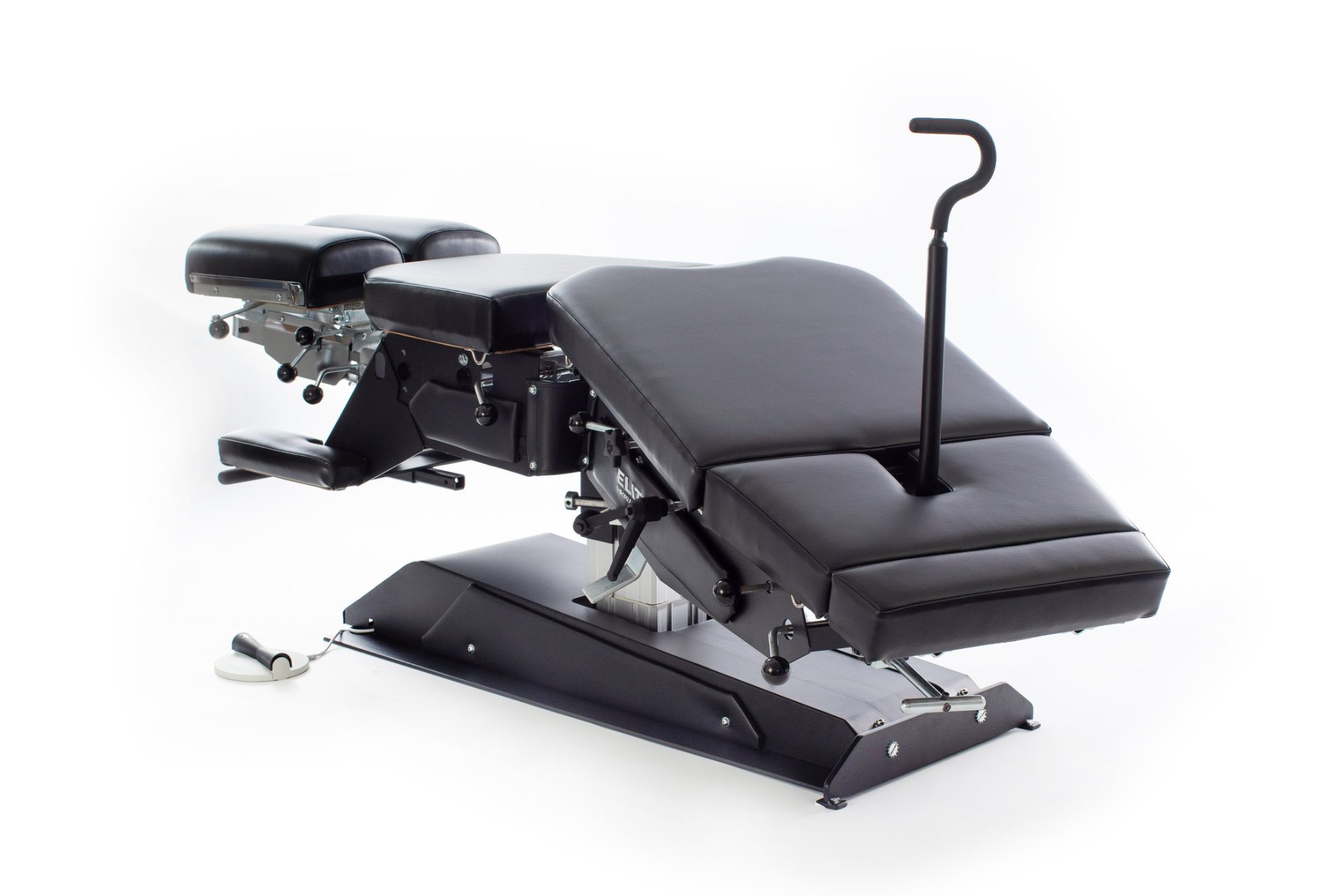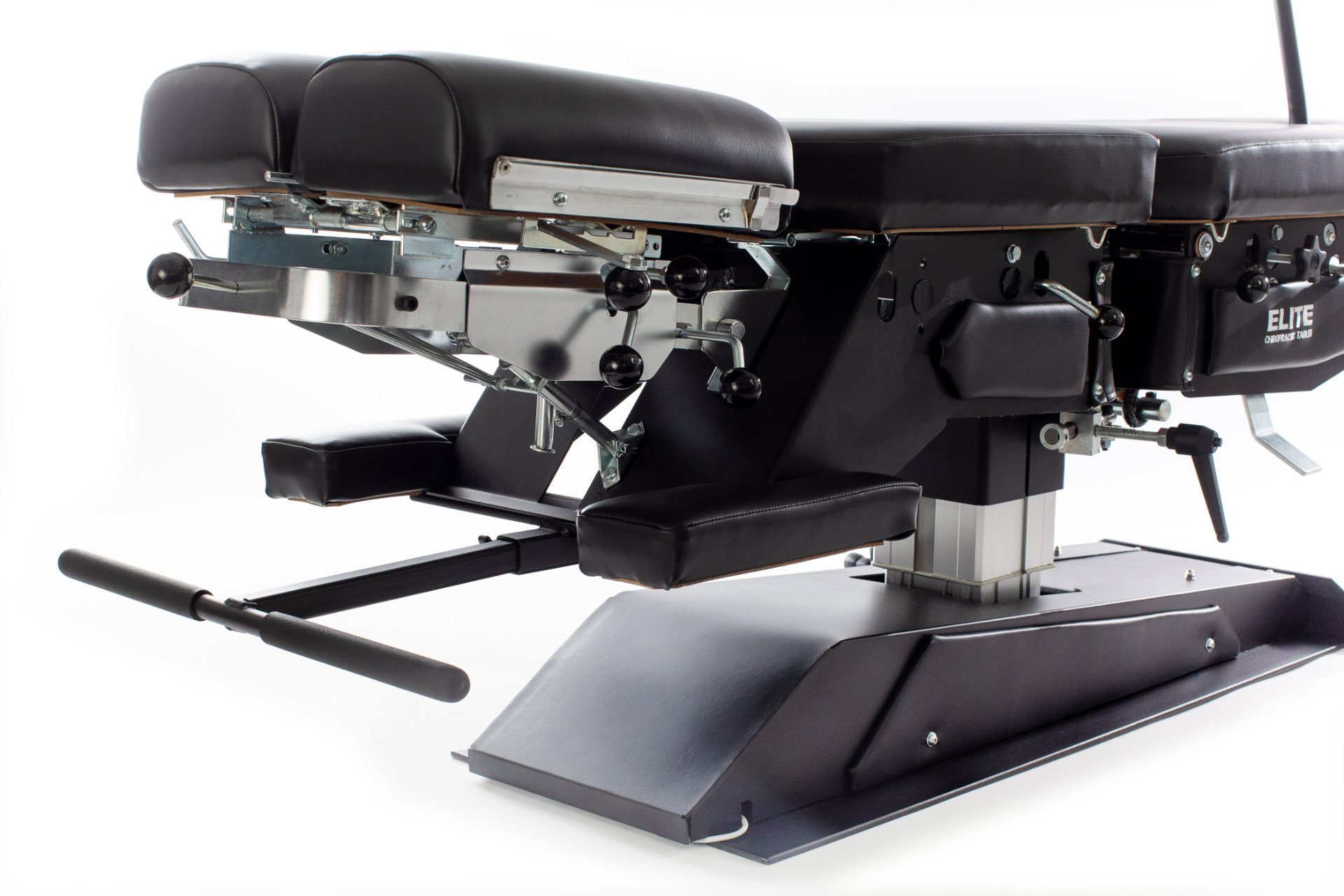 Axial Rotation
Rotate and lock the table in any position with the locking handle. Axial rotation provides up to 22 degrees of rotation.
Electric Elevation
Adjust your table to the ideal height with the tap of a footswitch. The table has an elevation range of eight inches, is rated to 230 kg. (500 lbs.)+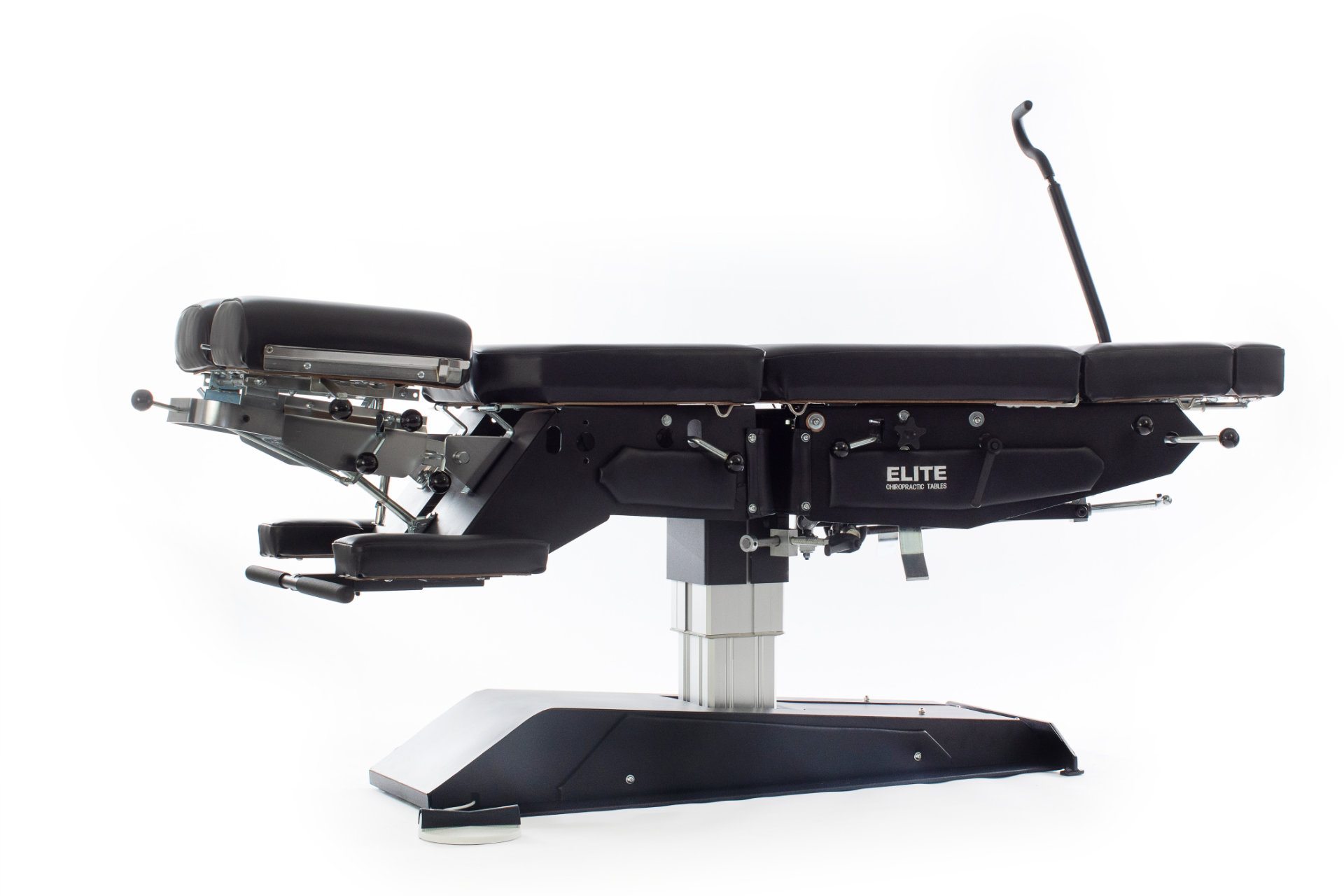 Removable Handle
The flexion handle can be removed while not in use.